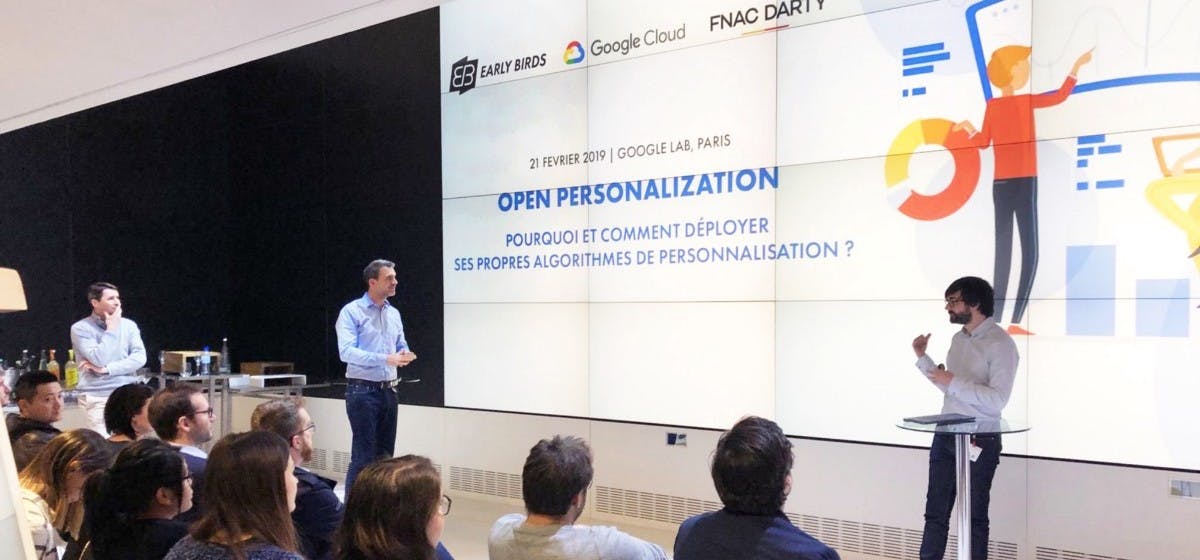 #OpenPersonalization — How and why to develop your own personalization algorithms
Event -
Personalization
Algorithms
Artificial intelligence
Google Cloud
Early Birds
EVENT | On February 21, Early Birds was at Google in Paris to talk about Open Personalization and explain, through its collaboration with the Fnac-Darty group, how and why to deploy one's own personalization algorithms.
Recently, e-commerce companies have been determined to offer a relevant and personalized customer experience that is totally adapted to their offer and their customer behaviour.
These major players are organizing themselves and setting up dedicated teams to meet this need and develop their own personalization algorithms. Like Fnac-Darty, the European leader in the distribution of cultural goods, leisure, technical products and household appliances, which has been working with Early Birds for two years and which, in 2018, began the internalization of their product recommendation system with the creation of a data team to develop their own personalization algorithms.
Why create your own personalization algorithms?
E-commerce companies know their customers and products/services well. The algorithms they develop are close to their data and therefore fully adapted to the specificities of their activity.
More broadly, it not only improves the user experience, but also differentiates them from the competition to attract new customers, increase retention and thus generate additional revenue.
"The interest of our collaboration with Early Birds is to focus 100% on the essential: the development of algorithms and machine learning. And to save time: we were in production only after a few months," explains François Ozanne, Web and UX Director of the Fnac-Darty group.
How to define the best personalization?
Precise and efficient personalization is based on four main aspects:
Relevant and enriched data
High-performance algorithms
Smart merchandising
Advanced feedback
1. Collect reliable multi-source data
"A good data is a crucial element for a high-performance personalization: you need clean data that makes sense," says Nicolas Mathon, co-founder of Early Birds.
Fnac-Darty provides Early Birds with its product feed and user data such as online sales history and user behaviour. Early Birds also collects additional real-time data: interactions, user preferences or online sales history.
The data is then consolidated, cleaned and enriched in the Early Birds platform and made available to Fnac-Darty's data scientists.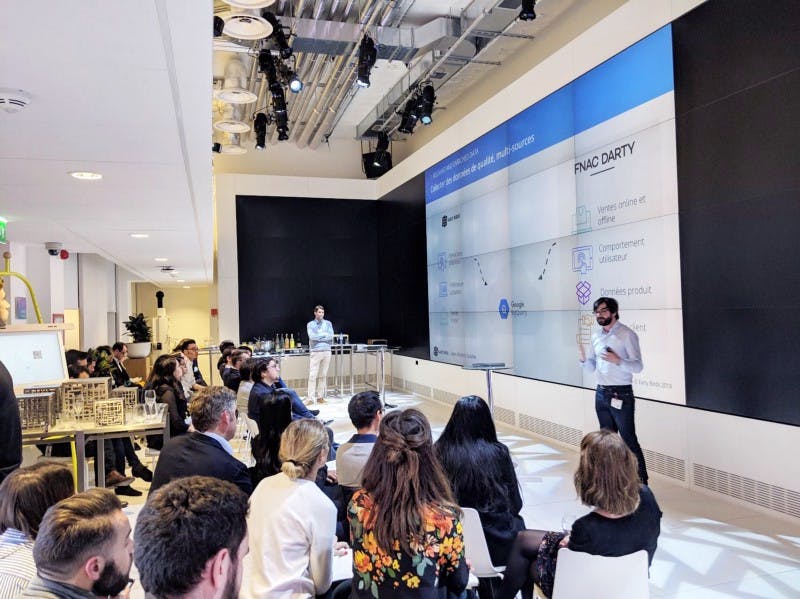 Early Birds and Fnac-Darty both use Google Cloud Platform, which makes it easy to share data.
2. Develop and orchestrate AI models
Fnac-Darty builds machine learning models in the form of daily graphs of similarity and complementarity. "The role of an AI model is to determine correlations between products and users or between products and products,"explains Nicolas Mathon.
Early Birds uses Fnac's AI models to serve them in real-time. The platform applies real-time re-scorings based on the user's latest activities and the parameters sent by Fnac-Darty. "Our platform adapts to the customer's model,"says Nicolas Mathon.
Early Birds allows Fnac-Darty's data teams to capitalize on their AI models. They can integrate algorithms, configure parameters, test them and then deploy them in real-time from the platform, immediately available to marketing and merchandising teams.
3. Apply smart merchandising rules
Fnac-Darty's marketing and merchandising teams then take over in the platform. They select the most relevant personalization strategies for each zone and add merchandising rules to constrain the algorithm and create a hyper-personalized customer experience, through the customer journey: product sheet, floating basket, home pages and landing pages, recap basket.
4. Get advanced feedback and analyze
Feedback is the analysis of each user's reaction to the personalized recommendations made to them. It is a key element in ensuring a high-performance personalization.
Firstly for the Fnac-Darty teams, in order to understand what happened and why. Did the user click? Did he/she buy it? What algorithm was used? Was there merchandising set up? Was it as part of an A/B test?
Then for the personalization algorithms. Some algorithms need feedback to learn or to be calibrated: recommended products, clicks on recommendations… Early Birds' advanced allocation mechanisms allow Fnac-Darty to feed its algorithms with the right data in real-time.
Does it work?
"You have to look for incremental value, the important thing is to have an improvement compared to the situation before", explains Nicolas Mathon.
In the case of Fnac-Darty, the algorithms are currently in the test phase compared to the ones used before. Nevertheless, Fnac-Darty was able to observe a 15% click increase and a 20% increase in shopping cart additions.
In conclusion
"What the Early Birds platform allows is for the Fnac-Darty data team to configure its algorithms, the marketing teams to add merchandising to build the best personalization strategies on each location and the business teams to define trade marketing. A single open, modern and scalable platform to manage all aspects of personalization," concludes Nicolas Mathon.
Click here to learn more about Early Birds and how to build the best personalization.