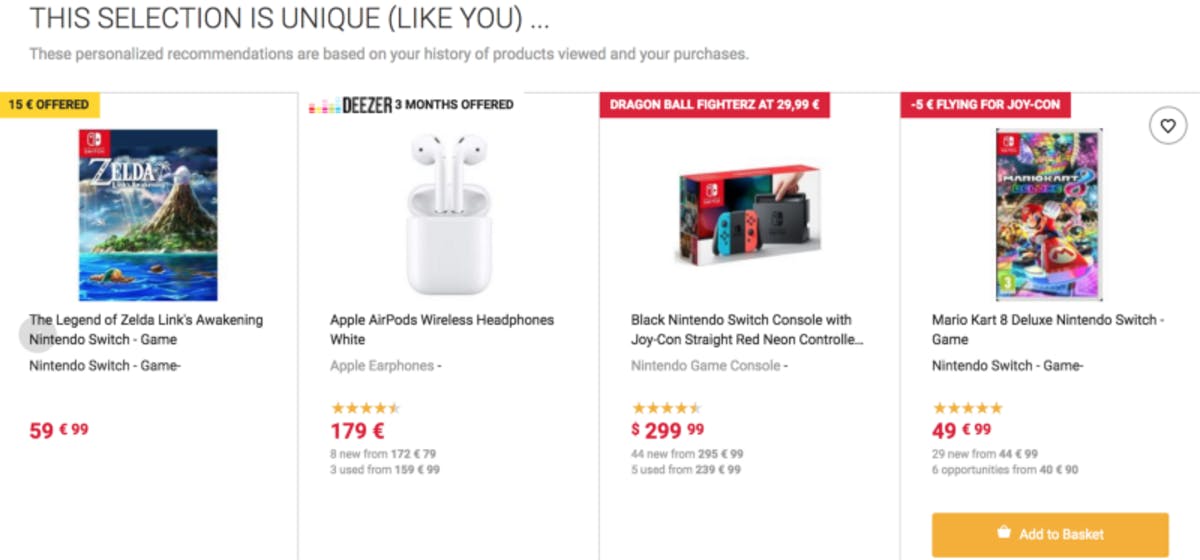 How Fnac-Darty develops its own personalization algorithms to optimize its user experience and differentiate
Stories -
Fnac
Personalization
Algorithms
Orchestrator
Customer
Context & Challenges
The Fnac-Darty group has been working with Early Birds for 2 years on personalization projects, to offer its customers relevant product recommendations adapted to their behaviour and purchase history, in an all-inclusive approach: desktop, mobile site and app.
In September 2018, the group began internalizing their product recommendation system with the creation of a data team to develop their own personalization algorithms. The aim was to offer a user experience fully adapted to the specificities of their activity and to the behaviour of their customers.
"Our objective is to create algorithms that adapt in real-time and continuously to Internet users to provide them with the most relevant offer," says François Ozanne, Web and UX Director of the Fnac-Darty group.*
The Fnac Darty group designs scenarios based on their customer knowledge, adapted to their editorial and technical product ranges. Their algorithms make it possible to manage the specific paths and behaviours of each user in the Fnac-Darty environment.
For example, with books: a user who has purchased Volume 1 of a saga is likely to buy the following volumes in the coming weeks.
In the high-tech section, a user who has purchased a large item (computer, tablet, telephone) will probably buy associated accessories in the following days.
This temporal notion goes beyond the behaviours usually analyzed in co-view or co-purchase.
"There is a real business challenge, that of seeking additional revenue, but also to improve the visitor experience and make navigation as simple as possible," explains François Ozanne.*
Fnac-Darty needed an open platform, capable of integrating and orchestrating its algorithms, in an omnichannel and real-time approach. They turned to Early Birds with whom they were already working on personalization, the only solution on the market that could meet this global need.
Solution et implementation
"Early Birds provides us with its structure (framework) as before and ensures flow management, merchandising rules, the addition of the catalog, real-time… This allows us to focus on the essentials: the big data and the algos. In other words, we inject our own algorithms into their ecosystem," illustrates François Ozanne.
1. Optimize data in a scalable approach
For any personalization strategy, being able to process rich, accurate and relevant data is key.
"The more reliable the data, the more precise and personalized recommendations will be, as well as in line with the expectations of each visitor" explains Nicolas Mathon, co-founder of Early Birds.
The Fnac-Darty group manages billions of data, both product and user, such as online purchase history and user activities, which raises two major issues: the volume and relevance of this data.
Early Birds also collects additional data in real-time and provides Fnac-Darty teams with a scalable platform thanks to its architecture, which makes it possible to process such a large volume of data. The open platform thus enables to collect, clean and enrich Fnac-Darty's data in real-time and ensure clean and totally relevant data. This data is then made available to their data scientists.
2. Orchestrate, deploy and activate algorithms in real-time
Fnac's algorithms are then 'injected' and orchestrated directly into the Early Birds platform.
Data teams configure the algorithms in the platform: they define various parameters for each algorithm, deploy and test them in real-time. They are then immediately available on the platform and can be 'activated' by Fnac-Darty's business teams.
The orchestration of Fnac-Darty's algorithms is carried out gradually: the data teams have created the AI models relying on Early Birds for the real-time part, which they are gradually internalizing. This allowed them to move faster, using Early Birds as an accelerator.
The Early Birds platform also allows Fnac-Darty to implement fallback strategies. The data teams have developed algorithms that do not cover the brand's entire product catalogue, hence the importance of setting up a fallback to Early Birds algorithms to ensure the proper functioning of product recommendation areas.
3. Apply a smart merchandising
Once the Fnac-Darty personalization algorithms are deployed, the marketing and merchandising teams take over to activate them and build the most effective personalization strategies available for each recommendation area: product sheet, floating basket, home pages and landing pages, recap basket.
In addition to the AI layer, they have access to a merchandising back office on the Early Birds platform that allows them to constrain algorithms with merchandising rules.
Results
Fnac-Darty is currently in the test phase of their self-learning personalization algorithms compared to the previous ones. The objective is then to deploy them on all websites in France, then in the other countries where the group is operating.
Data A/B teams test each algorithm directly in the Early Birds platform to find the best configuration and automatically identify the most effective strategies.
"We cannot yet communicate our ROI to the market, but we are very satisfied with the first results. We have significantly improved our sales performance," explains François Ozanne.
Conclusion
"The interest of our collaboration with Early Birds is to focus 100% on the essential: the development of algorithms and machine learning. And to save time: we were in production only after a few months," concludes François Ozanne, Web and UX Director of the Fnac-Darty group.
Click here to learn more about Early Birds and how to build the best personalization.