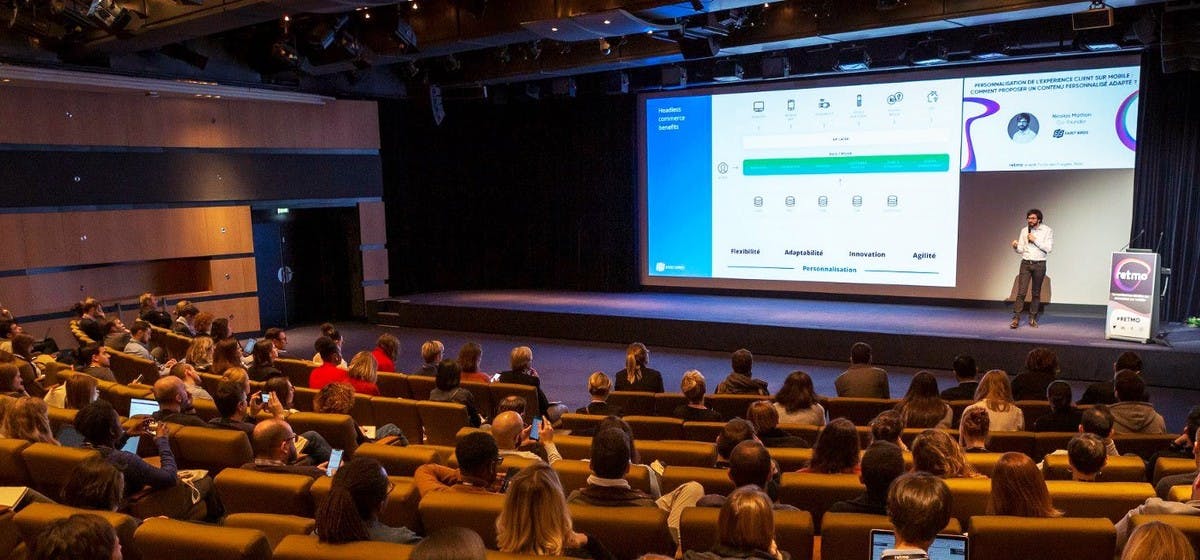 Personalizing the mobile customer experience: How to offer adapted personalized content
Event -
Mobile
Personalization
Headless commerce
RetMo
Early Birds
On April 4th, Early Birds was at RetMo, the must-attend e-commerce and retail event dedicated to mobile, in Paris. An opportunity for Nicolas Mathon, co-founder of Early Birds, to talk about the challenges of mobile personalization, around best practices.
Lightened content, headless commerce, progressive web apps… When moving from web browsing to mobile or app browsing, there are key issues that e-merchants must master and integrate, to ensure an optimal and engaging user experience. Personalization makes it possible to meet these challenges.
Challenge #1: Adapt content size and organization
Today, the mobile market offers a large number of devices, all of which have their own characteristics: from a smartwatch to an iPad and all smartphones, there is a very wide range of screen sizes and resolutions. It is difficult, in such a context, to bring the same message to all the screens that are potentially addressed.
With limited space to display content, it is important to ensure that the content offered to the users is in line with their expectations. Personalizing the organization and display of content according to each user's interests provides a relevant experience and increases the engagement.
Ordering predictive content can be applied and integrated to all devices and navigations throughout the customer journey, whether at the category level in a mobile site, on sections in an e-commerce app, on blog articles…
Challenge #2: Managing connection speed constraints
With mobile phones, there are variable connection speeds: 3G connection in the metro, wifi connection in the office… The mobile site or the app will be displayed in a similar way, regardless of the quality of the connection. This raises the question of how to adapt to this challenge, how many images and text to display for optimal navigation and conversion.
There are three main ways to respond to this.
Offer less, better targeted, more qualified content. Thanks to personalization, it is possible to manage the content displayed to each user by choosing only the appropriate content.
For example, display only 4 items on a product list page instead of 10, but more relevant, to encourage conversion.
Switch to progressive web apps. PWAs are web applications that allow you to offer mobile sites with similar performance and features to apps:
Prioritizing the content displayed
Progressive loading of content according to connection speed and navigation behavior
Memorization of visited contents
Deploy the headless commerce. It transfers the management of the display on the user's device, with a micro-services architecture. One component, one task.
Headless commerce brings flexibility and agility thanks to the autonomy of each device that is responsible for its display, and via the decoupling of each task from the e-commerce platform: catalog management, payment, personalization, CRM, PIM… Each brick or best-in-class solution is managed independently, in an API approach.
Personalization answers all these issues and fits perfectly into this ecosystem.
Challenge #3: Managing one-handed navigation
Mobile navigation works differently from desktop navigation, action areas are more limited and everything must be accessible with the thumb. It is necessary to be able to address users with relevant content and offer adapted navigation.
Two best practices enable to offer an engaging user experience adapted to mobile constraints:
Tinder-like experiences: set up a smart content display organization that will adapt as the user reacts.
Shopping assistant, bots, gift engines: lead the users to the right content by guiding them thanks to artificial intelligence to the most relevant content in a minimum of interactions.
Challenge #4: Gathering qualified information
The registration rate of users on an app is generally higher than on other devices because they are more committed to the app they just downloaded. The challenge is to capitalize on this commitment to propose an onboarding phase, during which the company can collect qualified data on the user.
The information requested during this onboarding phase depends on the sector, and will then allow the user to be offered relevant content.
It is important, through the service provided, to make the users want to share their data. We must ensure that we have a precise objective and that we communicate well with them about the counterpart: why we collect this information, what we are going to do with it, what we bring in exchange.
Challenge #5: Ensure a seamless omnichannel experience
Today, mobile phones are part of a more complex customer journey. It is spread over several devices (desktop, mobile…). Mobile transactions represent 28% of e-commerce sales in Europe, compared to 40% in North America, and 52% in the Asia-Pacific region (Source: Criteo).
One of the key points in the omnichannel customer experience is to be able to recognize the user on all devices. Criteo Shopper graph and Google Signals, partners of Early Birds, have this ability.
The objective is then to offer a relevant path, with coherence in the customer experience on all devices, for example via personalized emails that refer to dedicated landing pages, offering users the same selection of content as in the email, completed by other content, according to their interests.
Last but not least
Personalization allows the messages to be adapted to the device and the user. Technologically, we are witnessing many developments in this direction, thanks in particular to headless commerce, and e-merchants must join in, to offer an adapted and optimal mobile user experience.
See you next year! 🙌In the meantime, click here to relive the 2019 edition.
You want to know more about Early Birds and our AI-driven personalization solution? Click here or contact us.