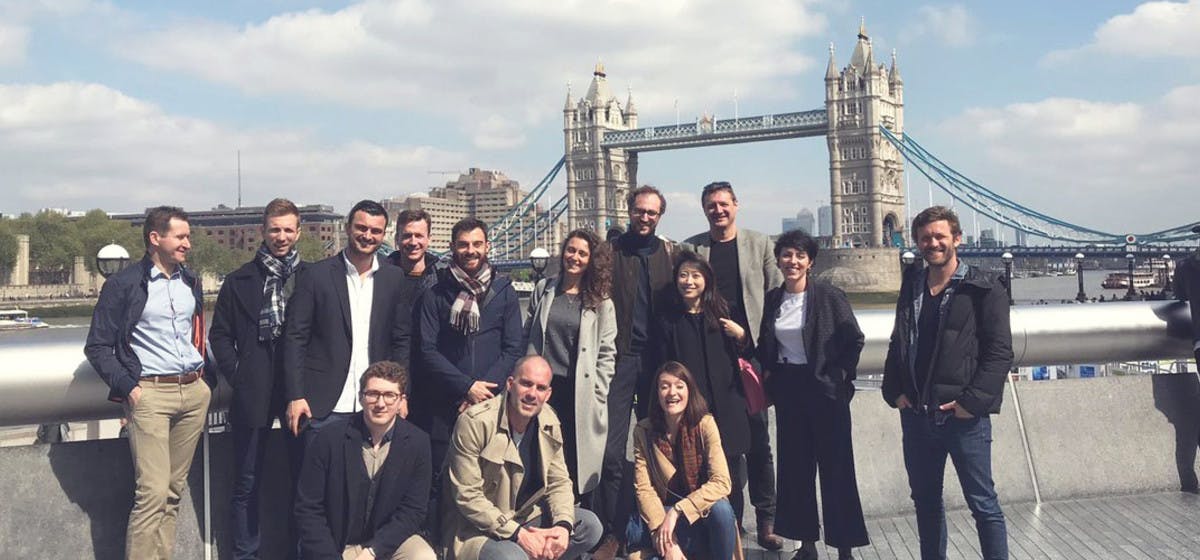 The Best of French Tech at the Retail Expo
Event -
Retail Tech
Retail Expo
Business France
French Tech
Event
The best of the French Retail Tech, including Early Birds, was with Business France in London in May, to represent the French Tech at the Retail Expo. 🇬🇧
Connect a dynamic ecosystem with major retailers
Earlier this year, Early Birds was selected by Business France, along with seven other French start-ups, to go on a Retail Tech Tour in London. This event was intended to connect the dynamic ecosystem of Retail Tech in France with innovation-driven companies in the retail sector in the United Kingdom.
The tour, organized with retailers such as Made.com, John Lewis or Decathlon and major agencies like London & Partners, included a visit of their showroom, a presentation of each start-up and networking sessions with the e-commerce teams on how to engage shoppers across the customer journey.
It was followed by the Smart Digital Signage Mixer event, organized by Intel, Quividi and Trueform, to further discuss e-commerce latest trends and initiatives with UK retailers, such as Harrods, JDSports, Landsec and Westfield, as well as other ecosystem players.
Decathlon also hosted an event at their flagship store in Surrey Quays, London. They presented their in-store RFID technology which simplifies employee's daily work and a better customer check out, one of many technologies Decathlon is using to enhance the customer shopping experience.
Optimize visibility on a key market
Following the Tour, Early Birds attended the Retail Expo, Europe's largest retail event, with Business France. Being part of the Business France delegation is an effective way to optimize a brand's visibility, but also to benefit from their credibility in the United Kingdom and meet the retailers attending the event, have a first contact or a more in-depth exchange on the omnichannel personalization needs and projects they plan to implement.
"Being supported by Business France throughout this Tour brings us good visibility and legitimacy to the UK market"Rémi Bouhanna, Sales Director at Early Birds.
Indeed, personalization is at the heart of retailers' concerns in the United Kingdom. Forrester Research reports that in the last year 77% of consumers have chosen, recommended, or paid more for a brand that provides a personalized service/experience; and 89% of digital professionals plan to invest in personalizing the customer experience*.
The Retail Tour ended with a networking cocktail. Supported by Mintel, the UK-France Retail Night was a unique opportunity to celebrate the strong ties between the French and British retail industries, around the following theme: 'Game-changing technologies, such as AI, in retail: what's the impact on customer experience and on the relationship between brands and retailers, both online and in store?'
The first step to a new story
The Retail Tech tour was shortly followed by the announcement of Early Birds' acquisition by Attraqt, a UK headquartered company and a leader in onsite search and merchandising.
"The move to become part of the Attraqt family not only extends our capabilities outside France but brings to our customers a whole new level of sophisticated search and merchandising expertise and technology", explains Laetitia Comès, Co-Founder of Early Birds.
It's only the beginning of a new adventure! 🚀
Learn more about Early Birds and our AI-driven personalization solution here.
*Source: 2019 Forrester Research Inc — The Personalization Imperative: Making the Move to Individualisation by Brendan Witcher (Vice President, Principal Analyst).